Juvederm New York City
On this page you can find answer to some of the common questions potential clients have about Juvederm treatment options. If you are still unsure if Juvederm is the right option for you, be sure to contact us and book a free consultation where we will go over your specific needs and goals and determine which treatment option is best for you.
Juvederm is manufactured by Allergan, which also offers 3 formulations:
Juvederm Ultra, Juvederm Ultra Plus and Juvederm Voluma.
All of these dermal fillers fall into the category of a hyaluronic acid gel injectable.
Not only is hyaluronic acid made naturally in the human body, but has also been used to treat wounds during eye surgery and been used to relieve joint pain.
It wasn't until 1996 when hyaluronic acid was used for the first time for facial tissue augmentation in Europe.

Filler By The CC
Standard 1cc Restylane® filler treatment to your area of choice such as the lips, cheeks eyes or other location.
*Additional cost for Juvederm, Voluma or Tear Troughs.

Love Your Lips
Show your lips some love with a plumping to match your needs whether you want a more natural look or something highly noticeable using RESTYLANE® or JUVEDERM®.
*Extra cost for Juvederm®

Russian Lips
Maximize those pouty lips with the Russian Lip Technique using Restylane® or Juvederm®.
*Extra cost for Juvederm®

Show A Little Cheek
Maximize those pouty lips with the Russian Lip Technique using Restylane® or Juvederm®.
*Extra cost for Juvederm®

Show A Little More Cheek
Ramp up your cheek definition by taking our Show A Little Cheek service to the next level with enhanced definition and lift using 2cc of filler

Goodbye Laugh Lines
Reduce the signs of premature aging with our subtle smile / laugh lines softening using Juvederm Ultra, Plus or Vollure.

Clear Cut Jaw Definition
Improve the definition of your jaw line and achieve a more youthful appearance with this treatment designed to help sagging skin around the jaw.
*Typical treatment can require 2-4 cc
Juvederm Volux
Recover volume loss in the jawline and chin area with this smoothing filler.

Chin Defining Filler
Naturally enhance and add structure to the chin area while creating the appearance of a tighter neck.
BOTOX® / DYSPORT® + FILLER BUNDLES

Jaw Dropper
Our custom jaw treatment – 2 syringes of Volux for the jawline and 1 syringe of Juvederm Voluma for the chin
*Extra cost for Juvederm®

Jaw Dropper Plus
The ultimate Jaw treatment – 2 syringes of Volux for the jawline, 1 syringe of Juvederm Voluma for the chin, and 3 vials of Kybella
Is Juvederm Compatible With Other Dermal Fillers?
Yes, any Hyaluronic Acid gel dermal filler such as, Juvederm Voluma, Juvederm Ultra, Juvederm Ultra Plus, Restylane, Restylane Silk, Restylane Lyft, and Perlane are all compatible.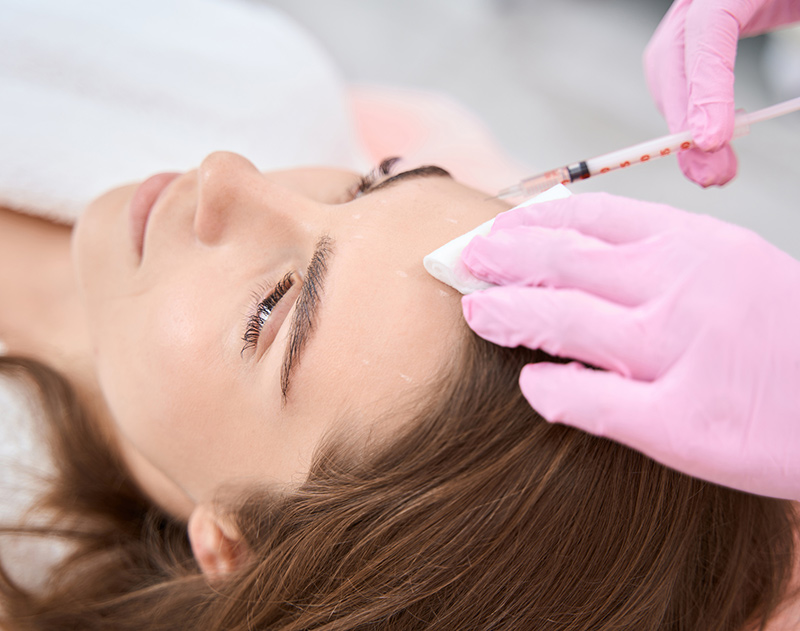 Watch the video below to see how Hyaluronic Acid fillers work
Which Areas Can Be Treated With Juvederm?
Juvederm can be used to help treat:
To increase the volume of your lips and to help plump naturally thin lips.
Which Juvederm Formula Is Best For Me?
Juvederm® Ultra
is used most often to treat the sensitive areas of the lips and around the mouth.
Juvederm® Ultra Plus
has a more robust formula which work well when treating the nasolabial folds.
Juvederm® Voluma
will add a subtle lift and volume to your cheeks to help restore a more natural looking contour for up to 2 years.
Questions? We've Got Answers
Yes, Juvederm was approved by the FDA on October 22, 2013.
Based on the clinical research collected by the FDA, they have found that Juvederm can be injected safely into the nasolabial folds to effectively smooth wrinkles and to add volume into the cheeks.
Juvederm is injected into facial tissue to help replace the volume that is lost due to aging, disease, or damage cause by the sun or from smoking. Hyaluronic acid plays an important role inside the human body; its primary function is to maintain skin hydration and volume. Studies have shown that the effects from a single treatment of Juvederm can last up to 12 months. Some results have lasted as long as 2 years.
The risks and possible side effects include:
Temporary redness or swelling at the injection site
Slight discomfort and bruising
Treated areas should avoid excessive amounts of sunlight
Extremely cold temperatures should be avoided until any swelling has cleared
To decrease the chance of bleeding at the site of injection, it is advised to avoid taking ibuprofen, aspirin or any other substance that will thin the blood
Patients are asked to avoid any form of strenuous activity for up to 24 hours after your treatment
For a complete list of side effects and possible risks, please consult with a medical professional.
Patients that are pregnant or breastfeeding should seek treatment as there has not been enough research done to know how this treatment will affect the infant.
Have more questions about Juvederm?