Microneedle New York City
On this page you can find answer to some of the common questions potential clients have about Microneedle treatment options. If you are still unsure if Microneedle is the right option for you, be sure to contact us and book a free consultation where we will go over your specific needs and goals and determine which treatment option is best for you.
Microneedle is a specially-designed hyaluronic acid filler that is infused with all-natural antioxidants, vitamins, amino acids and minerals.
When injected into the skin, Microneedle will encourage the regrowth of collagen, lighten dark spots, and reduce the appearance of wrinkles.
The Special Formula That Makes Up Microneedle Has Been Proven To:
How Does Microneedle Work?
The use of Microneedle is part of a complete treatment known as Mesotherapy which is gaining popularity in the USA, but is very well known and sought after in France.
Treatments will consist of six sessions, all of which include a series of micro injections administered mid-way into the skin.
Each treatment will be scheduled two weeks apart; some patients may need to continue up to six months.
Microneedle is more commonly used to treat signs of aging that appear on the face; however, Microneedle can also safely treat areas on the hands, neck and chest.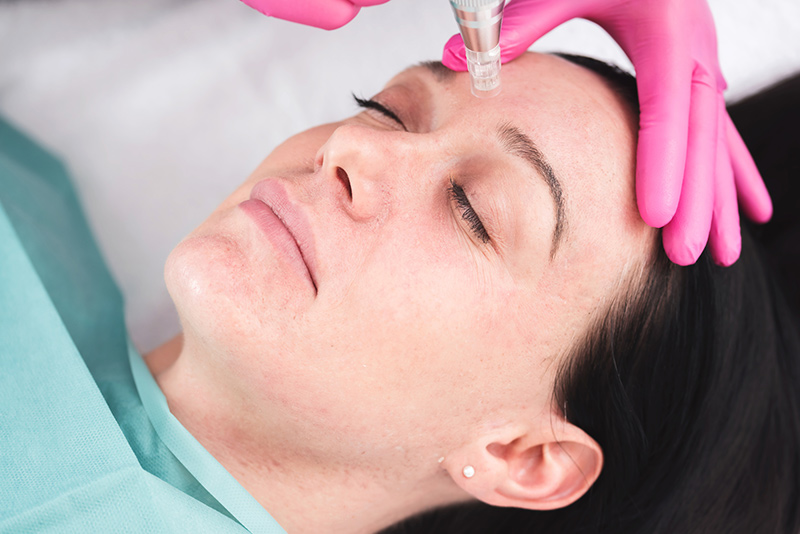 Watch the video below to see how Hyaluronic Acid fillers work
Questions? We've Got Answers
Yes, patients that experience any of the following:
Active Skin Disorders: such as cold sores, herpes, eczema, etc.
Known allergies to Lidocaine or other topical anesthetic or similar numbing agents
Pregnant or breast feeding
Diabetic or insulin dependent
Suffer from kidney, liver or heart disease
Taking medications including the use of aspirin and ibuprofen to control a bleeding disorder
Please consult a medical professional about any medication or prescriptions that you may be taking as they may interfere with the results of this treatment.
Many patients will experience slight redness and mild swelling which may take up to 12 hours to subside.
It is advised that the area(s) treated should avoid heat/sunlight for at least 8 hours.
Most patients will see immediate results after their first treatment, while others may require a booster treatment after 6 months.
To prolong the long lasting effects of Microneedle, you should apply sunscreen to treated areas to protect against UVA and UVB rays.
Have more questions about Microneedle?