Botox Garden City.
BOTOX® Cosmetic is a neuro-toxin treatment that is injected into muscles and used to improve the look of moderate to severe lines in adults from 18 to 65 years of age for a short (temporary) period of time. It was introduced in 2002 and is the first botulinum toxin to be approved by the FDA for this type of treatment. With real, noticeable results, no surgery and no recovery time, BOTOX® Cosmetic has been consistently chosen by millions of women and their doctors.
BOTOX® Cosmetic is administered by a healthcare professional as a simple, non-surgical treatment. Botulinum toxin injections are an excellent way to isolate specific muscles of the face that are causing laugh lines, frown lines, and other telltale signs of aging that patients are looking to temporarily erase.
The neuro-toxin must be directly injected with a needle into the muscles that are to be paralyzed. It works by preventing the release of a chemical in the muscles called acetylcholine, thereby blocking nerve impulses to the injected muscles. Once this chemical has been blocked, the muscles are effectively unable to move, halting the muscle activity that causes moderate to severe lines to form.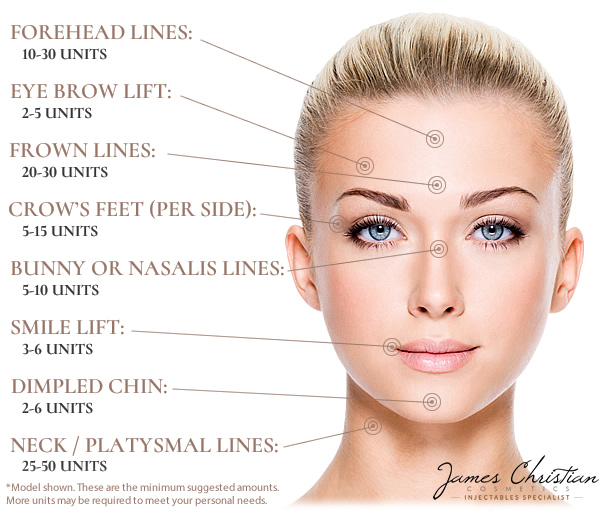 The areas of the face that can be treated with BOTOX® include:
The areas around the eyes to lessen the appearance of "crow's feet"

By The Area Treatment
Standard Botox®/Dysport® treatment by the area (20 units Botox® / 60 Units Dysport®). Target and smooth wrinkles on the 11's, forehead, crows feet or elsewhere as needed and pay by the area.

Botox Triple Pack
Standard Botox®/Dysport® treatment for 3 areas – frown lines, forehead and crow's feet.
| | |
| --- | --- |
| | (up to 60 units of BOTOX® |
| | or 180 units of DYSPORT®) |

Botox 100
Standard Botox® treatment for multiple areas that you select – up to 100 units.

Masseter De-Chipmunk - Jawline Definition And Slimming
Relax the masseter muscle and decrease puffy looking jawline and jowls using Botox or Dysport.
| | |
| --- | --- |
| | (up to 60 units of BOTOX® |
| | or 180 units of DYSPORT®) |

Pout Plumpin' BOTOX®
Subtly improve the fullness of your lip pout by gently flipping out the lip line and rolling the lip outward with Botox or Dysport.

Turn Down The Heat: Underarm Sweat Reduction
Take control of unwanted sweat production in your armpits with this simple treatment.

Bunny Lines
Get a more youthful. fresh appearance by smoothing bunny line wrinkles.

Under Eye Jelly Roll
Get a more youthful. fresh appearance by treating the area under the eyes.

Botox® Brow Lift
Lift up those brows with our Botox®/Dysport® brow lift treatment.

Botox® Neck Bands​
Tighten up those neck bands, lift the neck and rejuvenate your appearance with a targeted treatment on the neck bands.

Bombshell Botox®
Tighten up those neck bands, lift the neck and rejuvenate your appearance with a targeted treatment on the neck bands.
| | |
| --- | --- |
| | |
| | For The Forehead, Frown Lines, Crows Feet, Upper Lip & Chin |

Botox® Upper Lip Flip
Rolls the lip outward (i.e. "flipping" it) to create the illusion of a bigger lip without the use of a filler.

Facial Mini-Tox
Botox/Dysport to the Forehead, Glabellar and Crowsfeet areas to help with reducing pore size, facial sweating, & rosacea
James Christian: Injectables Expert
is not only our on-site facial filler & injectable expert but the owner and operator of New York's high-end BOTOX® and Facial Filler clinic James Christian Cosmetics.
James Christian has a well-versed education and training in the medical field from the south to north shore and spanning Manhattan, Queens and Brooklyn.
and then completed his graduate studies in Allied Health Sciences at Touro College receiving a Bachelor's degree and medical license as a Physician Assistant.
He looks for a patient's natural beauty and enhances it at a steady methodical pace for a natural aesthetic appearance, rather than overdoing or altering a person's natural look.
accompanied by a comforting bedside manner creates a relaxed atmosphere where patients enjoy a calm state of mind. His light touch gives patients confidence in receiving a relatively pain free procedure.
Vampire Facelift®, MesoGlow, dermal fillers, lip plumping, wrinkle treatments, Dermapen® microneedling, and liquid facelift. He can help you decide which combination of non-surgical treatments is right for you.
His advanced training includes certifications in performing the industry's top products: Botox®, Xeomin, Juvederm, Voluma, Radiesse, Bolotero & Sculptra Aesthetic. This has put him atop the leaders in anti-aging injectable procedures.
nd has expanded greatly with the advancements in injectable and laser technology, and continues to make strides as modern medicine evolves. With his continuing education in the technological advancements he is always on the cutting edge. With his finger on the pulse, you will always have access to breakthrough anti-aging treatments.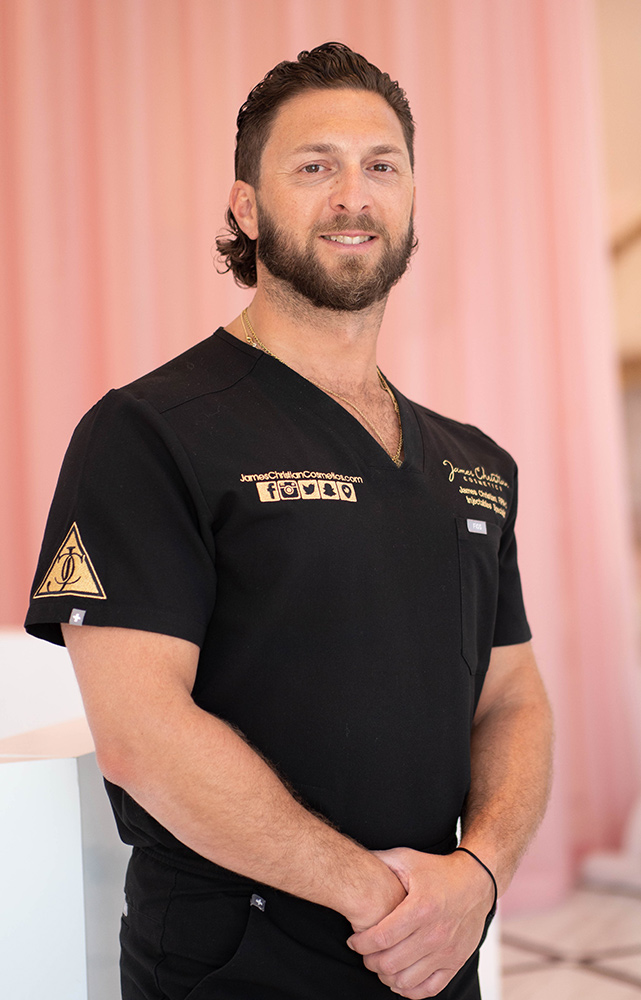 The cosmetic effects of BOTOX® begin to be seen right away as wrinkles on the face no longer appear when the patient smiles or frowns. During the treatment, James Christian will ask you to frown, furrow your eyebrows and smile to see which specific muscle groups need to be targeted in order to give you a smooth face that does not show wrinkles in the places that bother you.
Some side effects of BOTOX® may include:
These are normal reactions that the body has to both the BOTOX® solution as well as from the needle.
More serious side effects are extremely rare but can include:
Our BOTOX® injector will provide you with full disclosure and information prior to your treatment.
How Often Do I Need BOTOX®?
BOTOX® Cosmetic is designed to be re-injected about every 3 to 4 months. It needs to be repeated because the body gradually removes the neuro-toxin from the muscle tissues over time. This results in a return to complete movement in the treated muscles. Once you begin treatment by one of our anti-aging specialists, our office will automatically remind you when it is time for your next treatment.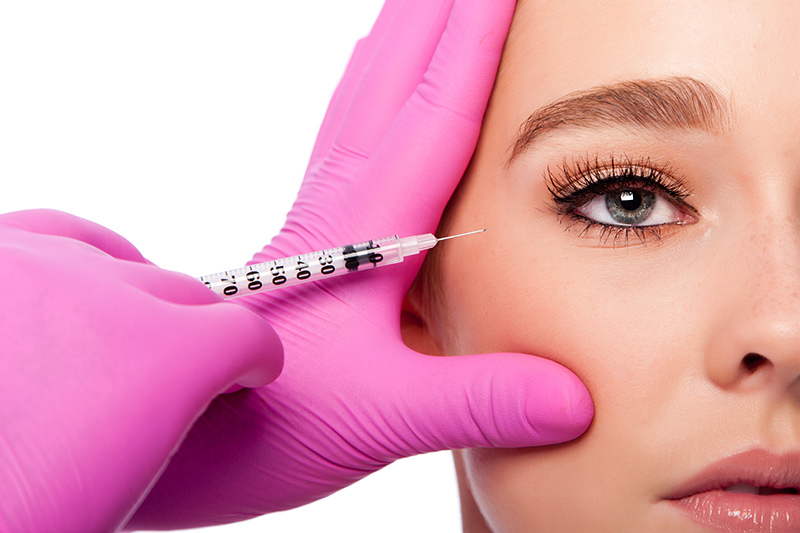 How Much do BOTOX® Treatments Cost?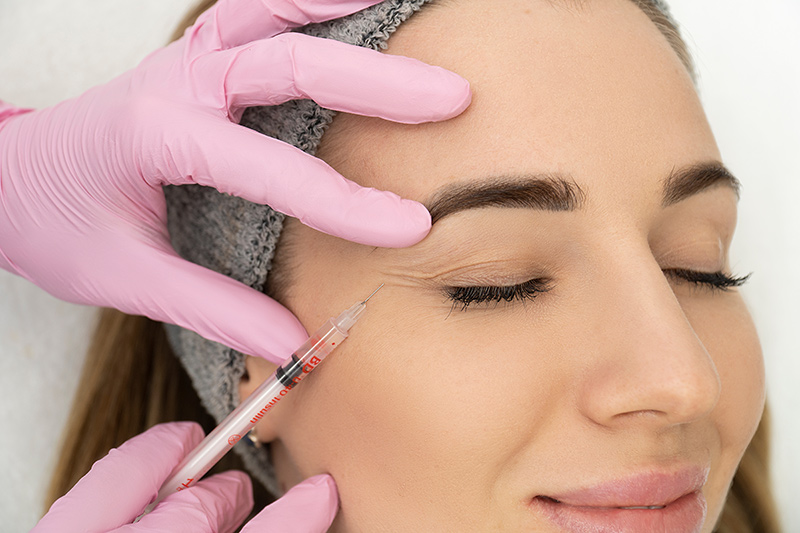 The prices of BOTOX® can go up or down based upon supply/demand as well as competition between providers. We offer competitive prices as well as seasonal specials running throughout the year so that our injectables patients receive the best treatments at the most affordable prices. We are glad to work with patients to reach an affordable treatment cost, especially when patients commit to a long term treatment plan for 12 months or longer.
No matter your aesthetic goals for a more youthful appearance, James can give you a complete treatment plan that will address each of your facial concerns. He is known for sitting with patients for as long as needed to answer questions and customize a treatment plan that will be most effective while working within your budget.
Every patient has different concerns about their facial features and how aging has affected their skin. James often uses BOTOX® and dermal fillers together for best results in order to achieve a more youthful look, performing dozens of procedures each week. Our injectables are designed to offer you a non-invasive, non-surgical method of improving the appearance of facial wrinkles, lines and creases due to aging and sun damage.
Patients can schedule their treatments by calling us at 844.426.8696
Our affiliates range from cosmetic injectables supplied by Allergan, Merz, Invasix, Galderma, and many more.
*BOTOX® Cosmetic is a registered trademark of Allergan, Inc.