BOTOX
Life in New York City moves pretty fast. And as such you often don't realize just how fast time can be passing by. Then one day you look in the mirror and start seeing lines and wrinkles where there were none before.
It can be alarming but worry not as there is a treatment that can help give you a more youthful appearance, it's called Botox® and it's got a lot of advantages:
Of course, Botox® is only one of the many options we can provide you with depending on what your particular goals happen to be. When you come in for a free consultation we can sit down with you and craft a custom treatment plan that can address each area you would like to see improvement in. We pride ourselves on taking whatever time is needed to ensure that all our patients questions are answered fully and a custom treatment plan has been crafted to meet their needs within their specific budget.

By The Area Treatment
Standard Botox®/Dysport® treatment by the area (20 units Botox® / 60 Units Dysport®). Target and smooth wrinkles on the 11's, forehead, crows feet or elsewhere as needed and pay by the area.

Botox Triple Pack
Standard Botox®/Dysport® treatment for 3 areas – frown lines, forehead and crow's feet.
| | |
| --- | --- |
| | (up to 60 units of BOTOX® |
| | or 180 units of DYSPORT®) |

Barbie Botox®
Give your neck an elongated "Barbie" look with Botox injections to the trapezius muscles.

Botox 100
Standard Botox® treatment for multiple areas that you select – up to 100 units.

Masseter De-Chipmunk - Jawline Definition And Slimming
Relax the masseter muscle and decrease puffy looking jawline and jowls using Botox or Dysport.
| | |
| --- | --- |
| | (up to 60 units of BOTOX® |
| | or 180 units of DYSPORT®) |

Pout Plumpin' BOTOX®
Subtly improve the fullness of your lip pout by gently flipping out the lip line and rolling the lip outward with Botox or Dysport.

Turn Down The Heat: Underarm Sweat Reduction
Take control of unwanted sweat production in your armpits with this simple treatment.

Bunny Lines
Get a more youthful. fresh appearance by smoothing bunny line wrinkles.

Under Eye Jelly Roll
Get a more youthful. fresh appearance by treating the area under the eyes.

Botox® Brow Lift
Lift up those brows with our Botox®/Dysport® brow lift treatment.

Botox® Neck Bands​
Tighten up those neck bands, lift the neck and rejuvenate your appearance with a targeted treatment on the neck bands.

Bombshell Botox®
Tighten up those neck bands, lift the neck and rejuvenate your appearance with a targeted treatment on the neck bands.
| | |
| --- | --- |
| | |
| | For The Forehead, Frown Lines, Crows Feet, Upper Lip & Chin |

Botox® Upper Lip Flip
Rolls the lip outward (i.e. "flipping" it) to create the illusion of a bigger lip without the use of a filler.

Facial Mini-Tox
Botox/Dysport to the Forehead, Glabellar and Crowsfeet areas to help with reducing pore size, facial sweating, & rosacea
What Is BOTOX® and How Does It Work?
BOTOX® is a neurotoxic protein which is produced by the bacterium Clostridium botulinum. Clostridium botulinum is an organism found in the natural environment where it is largely inactive and non-toxic. Clostridium botulinum, the organism from which Botox is derived, is found in inactive form in the natural environment, including in the forest and cultivated soils, and in the sediment of lakes, streams, coastal and untreated waters.
BOTOX® Cosmetic is a neuro-toxin treatment that must be directly injected with a needle into: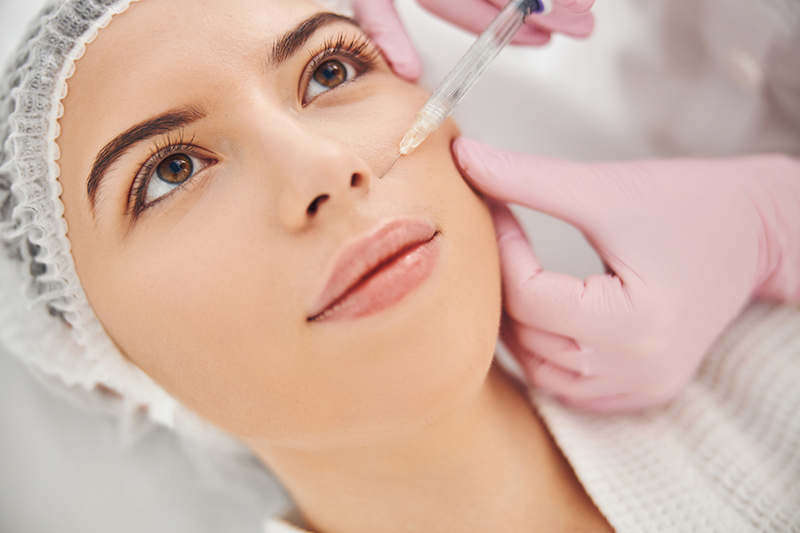 Watch the video below for details on how BOTOX® works.
The video above can give you a great idea of how BOTOX® works from a technical standpoint. If you're looking for a few more questions about it to be answered we've done up another article page that you can check out here. On that page we go over a few more frequently asked questions about BOTOX®.
What Areas Does BOTOX® Treat?
BOTOX® Cosmetic can be used to treat:
 – Fine lines and wrinkles around the eyes.
BOTOX® has also been approved for treatment of:
– Also known as Focal Hyperhidrosis
(New York City's Injectable Expert)
He is also the owner and founder of the James Christian Cosmetics brand, New York City's high-end BOTOX® and Facial Filler clinics located all across New York City and Long Island.
where his skill and artistry in aesthetics are renowned. He performs many BOTOX® and dermal filler procedures each week and has a following of patients that only trust him to performing their injectable services.
He is skilled at performing many skin treatments such as BOTOX®, Vampire Facelift®, MesoGlow, dermal fillers, lip plumping, wrinkle treatments, Dermapen® microneedling, and liquid facelift. –
View Full Bio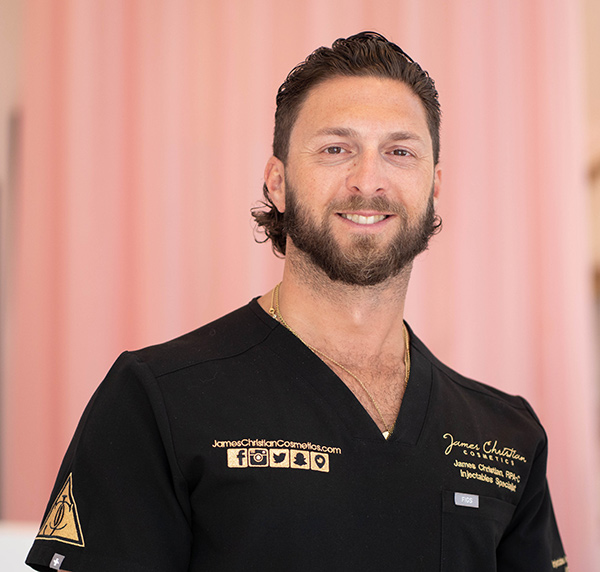 Questions? We've Got Answers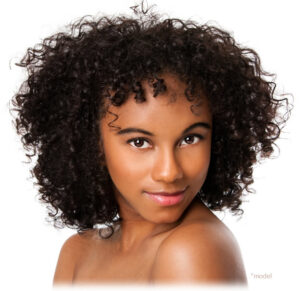 Typically immediately following the injections, the injection site may become slightly red and tender and slightly red. This is a normal reaction that the body has to both the needle and the BOTOX® solution. These reactions usually subside within a few hours to a day after the treatment.
More serious side effects can happen but are extremely rare. These reactions can include severe allergic reactions, skin rashes, dizziness or trouble breathing. We will provide you with all the information regarding this prior to your treatment.
The results are typically at their best shortly following treatment (a few days or so). Over time the results become less noticeable as your body gradually removes the neuro-toxin from the muscle tissues over time returning complete movement to the treated muscles.
BOTOX® is designed to be re-injected about every 3 to 4 months. Once you begin treatment our office automatically reminds you when it is time or your next treatment.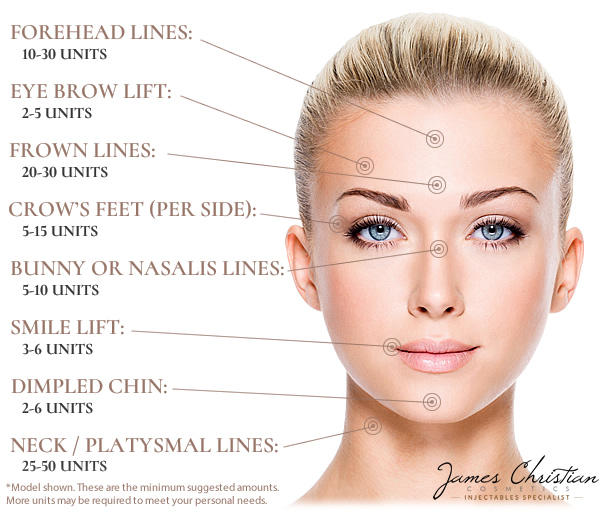 BOTOX® is sold per unit and the prices vary depending on factors such as where you are buying it, the amount you are buying, the areas being treated and whether or not there are promos or specials going on.
Typically most places charge about $15/unit as standard pricing. However, At James Christian Cosmetics we are proud to offer some of the most competitive rates for BOTOX® in the New York City area.
In general, we offer BOTOX® for a low as $12 per unit (in 20 unit blocks). This amount can even be less depending on if there are promotions running, if you are a first time patient, if you are buying it as part of a service bundle (like James Christian's Cocktail), you are buying a long term treatment plan (1 year or more) or your are buying a large number of units at one time.
This is why we highly recommend that you come in for a consultation where we can custom create a treatment plan for you at the best possible price.
There are a lot of factors to keep in mind when considering BOTOX® or cosmetic surgery in NYC. We've written out a few of the biggest comparison points here that you can consider. Of course this is not an all-inclusive comparison and you should still do your own research but this should at least give you a good starting point.
BOTOX®
Lower Cost –  Treatments can cost a little as a couple hundred dollars. Even though the cost of regular treatments may add up over time, many find it easier to budget for rather than a single large upfront cost.
Temporary Results – Results are temporary which allows you the ability to test different treatments over time to find what works best.
Minor Side Effects And Little Risk – Typical side effects are minor such as headaches, mild nausea, mild pain at the site of the injection…etc. (contact us for all possible side effects). More severe allergic reactions can happen but are rare.
Virtually No Recovery Time – Most can continue with their day immediately after treatment. Pain/swelling/redness usually subsides within hours to a couple days after treatment.
Practically Instant Results – Results from injections can be seen almost immediately and improve over the next few days as swelling and redness goes away.
COSMETIC SURGERY
Higher Cost – Surgeries such as facelifts, eye lifts, rhinoplasty…etc. cost thousands of dollars. Many people can require financing to pay for treatment.
Results Are Permanent – This is a double edged sword. If your results are good it's nice that they will last permanently. But if your results are not good you're pretty much stuck with them (unless you want to pay for another surgery).
Higher Risk Of Complications Or Infection – Depending on the surgery your are getting you may need to be put under general anesthesia which comes with additional risks. Additionally with any cuts that are done there is inherent risk of infection.
Longer Recovery Time – Depending on the procedure you get done you may need a few weeks or more to fully recover.
Results Are Slow – It can take weeks or months for full effect of your procedure to be seen.
Have more questions about Botox®?
*BOTOX® Cosmetic is a registered trademark of Allergan, Inc.