We service New York City and all surrounding areas such as Huntington Bay. Our injectables are designed to offer our patients a non-invasive, non-surgical method of improving the appearance of facial wrinkles, lines and creases due to aging and sun damage.
We often use BOTOX and dermal fillers together for best results in order to achieve a more youthful look.
Information About Botox Services
BOTOX® treatment costs are based upon a per unit fee. When multiple facial areas are treated, the price increases appropriately. The prices of BOTOX can go up or down based upon supply/demand as well as competition between providers. A half dozen or more units may be used per area depending upon the size of the area to be treated.
We offer competitive prices as well as seasonal specials running throughout the year so that our injectables patients receive the best treatments at the most affordable prices. We are glad to work with our patients to reach an affordable treatment cost, especially when patients commit to a long term treatment plan for 12 months or longer.
No matter your aesthetic goals for a more youthful appearance we can give you a complete treatment plan that will address each of your facial concerns. We are known for sitting with patients for as long as needed to answer questions and customize a treatment plan that will be most effective while working within your budget.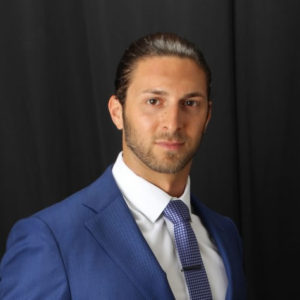 Meet James Christian, Expert Injector
James Christian Sardelli, a Registered Physician Assistant - Certified (RPA-C), is the creator of Advanced Cosmetic Surgery of New York as well as the owner and operator of New York's high-end BOTOX and Facial Filler clinic James Christian Cosmetics, which has several locations across New York City and Long Island.
James has over ten years of experience as an expert injector of BOTOX® and provider of anti-aging treatments for facial rejuvenation. He specializes in Vampire Facelift®, dermal fillers, lip plumping, wrinkle treatments, Dermapen microneedling, and liquid facelift. James can help you decide which combination of non-surgical treatments is right for you.
He was born and raised in the suburbs of Long Island NY and has a well versed education and training in the medical field. His practice has expanded greatly with the advancements in injectable and laser technology.
James received a degree and medical license as a physician assistant from Touro College. Training under some of the top plastic surgeons of the metropolitan area, he specializes in the latest Dermal fillers, Botulinum toxins, Dermapen and Smart Lipo.
The cornerstone of James' practice is his passion about beauty enhancement. Enhancing a patient's natural beauty at a steady methodical pace is his main objective. He strives for a perfect natural aesthetic appearance versus overdoing or altering a person's natural look. He firmly believes in using Injectables as an art form to regress as well as prevent the aging process.
James strives for a pain free procedure with a light touch of his hand and has a comforting bedside manner which gives patients a relaxed state of mind before even beginning any procedure.
With his continuing education in the technological advancements in Aesthetics, is always on the cutting edge of breakthrough anti-aging medicine.
BOTOX® was introduced in 2002 and is the first botulinum toxin to be approved by the FDA to temporarily treat moderate-to-severe glabellar lines between the brows. Since 2002 approximately 11.8 million procedures have been administered in the United States. Of 303 patients surveyed 92% were satisfied with the results of their BOTOX® experience.
BOTOX® is a neuro-toxin treatment that is used to improve the look of moderate-to-severe frown lines in people 18 to 65 years of age. These injections are an excellent way to isolate specific muscles of the face that are causing laugh lines, frown lines and other telltale signs of aging that patients are looking to temporarily erase.
BOTOX® is a simple, nonsurgical treatment that is injected directly into the muscles between the brows (glabellar lines, "elevens") to improve the look of moderate-to-severe frown lines from furrowed brows, the area around the side of the eyes to improve the look of moderate-to-severe crow's feet lines, the area around the mouth (perioral muscles), and the forehead muscles to stop horizontal creases from appearing when the eyebrows are raised. The neuro-toxin must be directly injected with a needle into the muscles that are to be paralyzed.
BOTOX® works by blocking nerve impulses to the injected muscles thereby reducing muscle activity that causes moderate-to-severe lines to form. This neuro-toxin works to prevent the release of a chemical in the muscles called acetylcholine. Once this chemical has been blocked, the muscles are effectively unable to move.
During the treatment, you are asked to frown, furrow your eyebrows and smile to see which specific muscle groups will need to be targeted in order to give you a smooth face that does not show wrinkles in the places that bother you.
With BOTOX® there are real, noticeable results with no surgery and no recovery time.
Typically, a BOTOX® treatment needs to be repeated every 3 to 4 months because the body gradually removes the neuro-toxin from the muscle tissues over time. This results in a return to complete movement in the treated muscles.
Normal reactions that the body has to both the BOTOX® solution as well as from the needle include tenderness and slight redness of the treated areas directly after the injections. More serious side effects are extremely rare but can include allergic reactions, skin rashes, dizziness or trouble breathing.