Botox NYC.
Botox (also known as onabotulinumtoxina) is a facial injection that can help reduce the appearance of fine lines and wrinkles. It was first FDA approved for use back in 1991. Due to it's affordable cost and achievable results it's become the standard in facial injection treatments. On this page you can find answers to some of the most common questions potential patients have about Botox treatment options. If you are still unsure if Botox is the right option for you after going over this page and the videos contained within, be sure to contact us and book a free consultation where we will go over your specific needs and goals and determine which treatment option is best for you.
Botox is a neurotoxic protein which is produced by the bacterium Clostridium botulinum. Clostridium botulinum is an organism found in the natural environment where it is largely inactive and non-toxic. Clostridium botulinum, the organism from which Botox is derived, is found in inactive form in the natural environment, including in the forest and cultivated soils, and in the sediment of lakes, streams, coastal and untreated waters.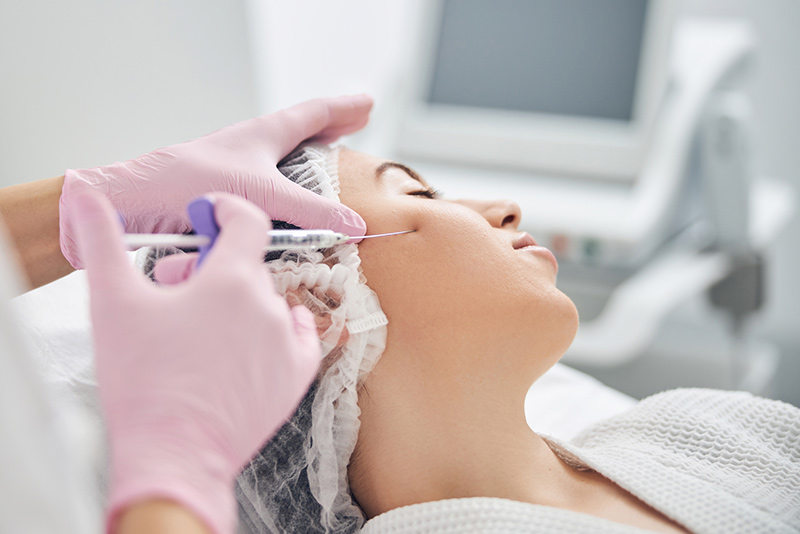 By The Area Treatment
Standard Botox®/Dysport® treatment by the area (20 units Botox® / 60 Units Dysport®). Target and smooth wrinkles on the 11's, forehead, crows feet or elsewhere as needed and pay by the area.

Botox Triple Pack
Standard Botox®/Dysport® treatment for 3 areas – frown lines, forehead and crow's feet.
| | |
| --- | --- |
| | (up to 60 units of BOTOX® |
| | or 180 units of DYSPORT®) |

Barbie Botox®
Give your neck an elongated "Barbie" look with Botox injections to the trapezius muscles.

Botox 100
Standard Botox® treatment for multiple areas that you select – up to 100 units.

Masseter De-Chipmunk - Jawline Definition And Slimming
Relax the masseter muscle and decrease puffy looking jawline and jowls using Botox or Dysport.
| | |
| --- | --- |
| | (up to 60 units of BOTOX® |
| | or 180 units of DYSPORT®) |

Pout Plumpin' BOTOX®
Subtly improve the fullness of your lip pout by gently flipping out the lip line and rolling the lip outward with Botox or Dysport.

Turn Down The Heat: Underarm Sweat Reduction
Take control of unwanted sweat production in your armpits with this simple treatment.

Bunny Lines
Get a more youthful. fresh appearance by smoothing bunny line wrinkles.

Under Eye Jelly Roll
Get a more youthful. fresh appearance by treating the area under the eyes.

Botox® Brow Lift
Lift up those brows with our Botox®/Dysport® brow lift treatment.

Botox® Neck Bands​
Tighten up those neck bands, lift the neck and rejuvenate your appearance with a targeted treatment on the neck bands.

Bombshell Botox®
Tighten up those neck bands, lift the neck and rejuvenate your appearance with a targeted treatment on the neck bands.
| | |
| --- | --- |
| | |
| | For The Forehead, Frown Lines, Crows Feet, Upper Lip & Chin |

Botox® Upper Lip Flip
Rolls the lip outward (i.e. "flipping" it) to create the illusion of a bigger lip without the use of a filler.

Facial Mini-Tox
Botox/Dysport to the Forehead, Glabellar and Crowsfeet areas to help with reducing pore size, facial sweating, & rosacea
Botox is injected to treat certain muscular conditions and cosmetically remove wrinkles by temporarily paralyzing muscles. When injected in small amounts, Botox can weaken a muscle for up to 4 months. For a more detailed look at how Botox works be sure to check out the video on the right.
What Areas Does Botox Treat?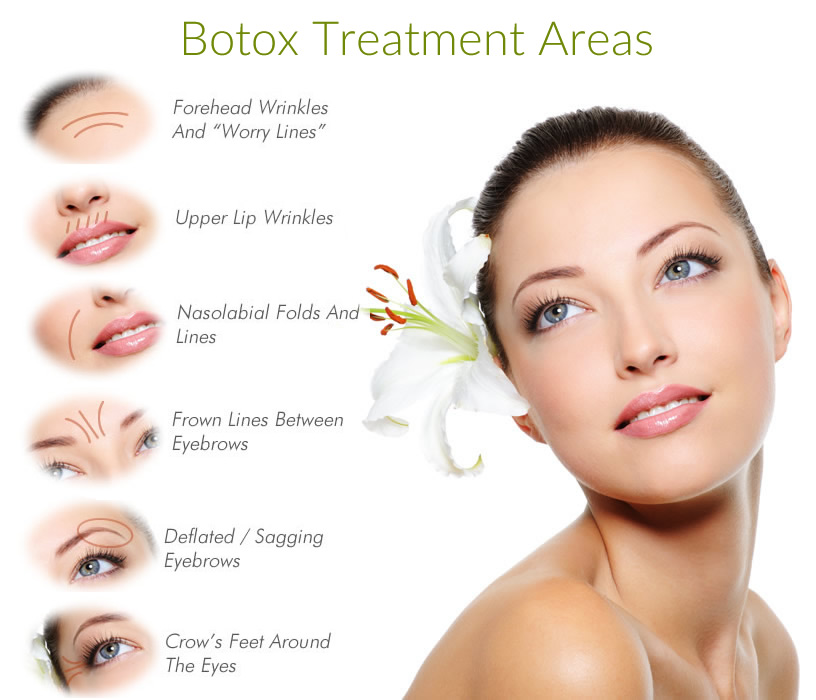 When it comes to treating fine lines and wrinkles, Botox can be used on many areas around the eyes such as moderate to severe crow's feet (lines around the eyes), as well as frown lines between the eyes, also known as glabellar lines or "elevens." It can also be used to treat areas around the mouth and lips that may have fine lines or wrinkles.
The image on the left shows some of the areas that can be treated with Botox. The amount of Botox needed for each area with vary. Here's a general breakdown:
Botox has been shown to help conditions such as:
Have more questions about Botox®?