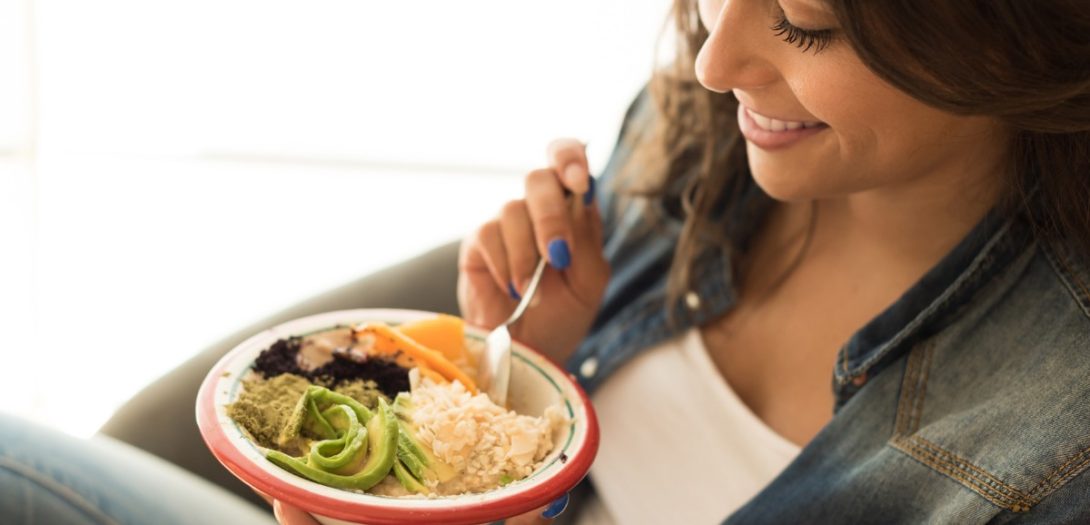 Image Credit: © Trendsetter - Fotolia.com // Model
Can Going Vegan Improve Your Skin?
Veganism has become somewhat of a trend these days. The Economist reported that 2019 is the year of the vegan with approximately 7.9 million people in the U.S. adopting this way of eating.
So, what is veganism?
People who eat a vegan diet abstain from consuming animal products. This includes not only meat, but also dairy products and eggs. Many vegans also choose to wear animal-free clothing and accessories, and to buy only cruelty-free cosmetics and body products.
The mission of many vegans is to not only eat healthier, but to also stop the abuse of animals.
How a Vegan Diet Affects the Skin
You probably know the old saying "you are what you eat." But how does avoiding meat, dairy, and eggs affect the skin?
The Positive Effects of the Vegan Diet
When people don't eat animal products, they turn to vegetables and fruits for nourishment. Our bodies love the nutrients found in those foods. In fact, the vitamins, minerals, and nutrients in whole foods like these actually feed the skin.
This leads to:
Brighter complexion
Less bloating of the face
Better skin texture
Keep in mind, these results are due to the increased consumption of vegetables and fruits, and not solely from eliminating meat, dairy, and eggs.
Negative Effects of a Vegan Diet
Unfortunately, even though veganism focuses on eating a plant-based diet, there are some downsides to it. Without the consumption of meat, dairy, and eggs, the body may miss out on certain vitamins, nutrients, and minerals. This can lead to deficiencies that can negatively impact skin health.
Nutrient deficiencies can lead to:
Darkening of the skin
Dullness
Dryness
Pale skin
These effects have more to do with being malnourished than with nixing animal products. In other words, these side effects usually come from not eating enough fruits, vegetables, and healthy grains. Be cautious before embarking on a vegan diet. It's important to understand which nutrients you won't be able to get from your diet (such as B12) so that you can properly supplement with vitamins.
Vegan Diet for Healthy Skin
A vegan diet doesn't have to mean poor nutrition and unhealthy skin. All you have to do is consume complete plant-based proteins (such as quinoa) and foods high in omega 3 fatty acids (such as flax seeds).
It's also better to change your diet gradually instead of doing it all at once. The body becomes accustomed to one type of diet and sudden changes can cause people to feel ill and have decreased energy.
Improve the Look of Your Skin with James Christian Cosmetics
Diet is the first step in improving the look of your skin; the second step is to contact James Christian Sardelli, RPA-C. As a well-known, experienced injector and anti-aging expert in Manhattan and Long Island, he offers many skin rejuvenation treatments that can help you look and feel gorgeous from the inside out.
For more information, contact our 24/7 Cosmetic Concierge line by calling or texting 917-860-3113.
We have offices conveniently located throughout Nassau and Suffolk counties, including Manhattan, Commack, Farmingdale, Westhampton Beach, Rockville Centre, Babylon Village, and Islip, New York.
Always consult your doctor before taking any supplements or changing your diet. This article is intended for informational purposes only and is not to be used as medical advice or as a substitute for seeking the advice and treatment of a medical doctor.
*Information in the blog is provided for entertainment purposes only. Consult a medical professional before attempting any tips shown here.