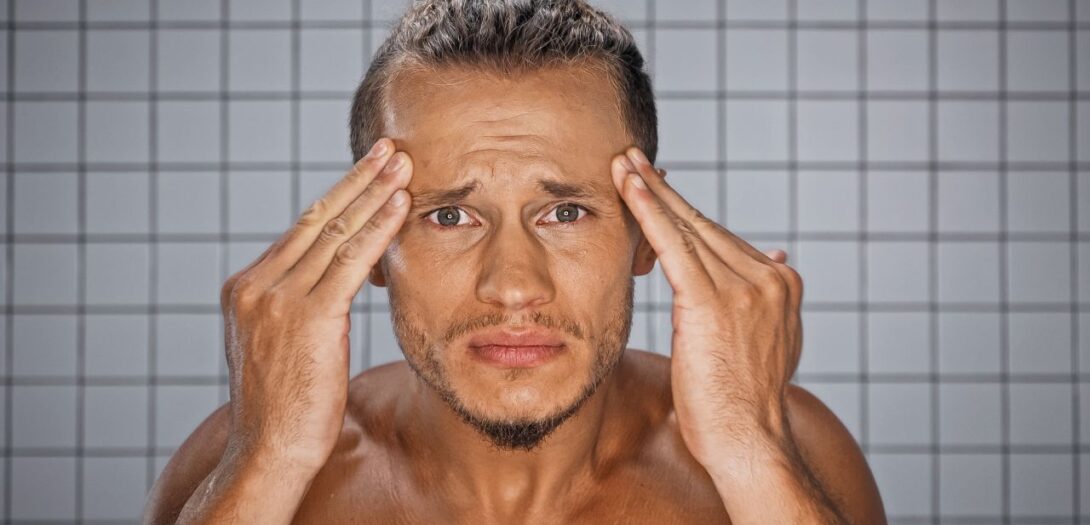 Image Credit: ©AntonLozovoy- Deposit Photos
What Really Causes Men's Wrinkles
As a man, it's only natural for me to be curious about what causes wrinkles for men, and if there are differences based on gender alone. When I started out in this industry, I remember reading as much as I could on the topic of aging and asking my mentors and colleagues what seemed like a million questions.
The more I learned, the more I realized that everyone is different. While there are some generalizations when it comes to how men and women age, individual differences trump them all.
What we know from thousands of studies around the globe is that some men tend to develop wrinkles sooner than women. The causes of this are usually due to their lifestyle. On the flip side, men who have made healthier lifestyle choices leading up to their Golden Years fare much better when it comes to preserving their youthful looks.
So, what are these lifestyle that can lead to an early onset of wrinkles?
Overexposure to the Sun
Men working outdoors (including truck drivers & delivery drivers) are most susceptible to wrinkles from sun overexposure. Ultraviolet UVA and UVB rays are damaging to the skin. When the skin is exposed for long periods of time, consistently, the effects can mimic thermal burns. These burns break down the collagen fibers beneath the skin, causing the skin to wrinkle.
Changing careers isn't always an option, but wearing sunblock is. Make sure to apply SPF 50 sunblock every day, even when it is cloudy outside...harmful rays can get through the clouds. Reapply every 80 minutes if you're sweating or are in the water.
Smoking Cigarettes
Smoking cigarettes are harmful to your lungs and will also damage your skin. The Annals of Internal Medicine found smoking increases the severity of wrinkles for both men and women. The burned tobacco (and hundreds of chemical additives) in cigarettes affect the elasticity, texture and color of the skin over time. This is the reason why people often start to see changes in well before their 40's if they started smoking around 18 years old.
Quitting smoking can help stop further skin damage and improve your overall health. So, if you needed another reason to quit, this is definitely it.
Hormones
As men age, their testosterone levels decrease. When testosterone levels are high, the skin is thick, tough, and supple. However, when there isn't as much testosterone in the body, the skin loses elasticity. Loose skin can start to wrinkle in places and continue to deepen and multiply as testosterone decreases over time.
Men who suffer from other effects of low testosterone may be able to speak to their doctor about increasing their levels with hormone replacement therapy. If you're interested, speak to a healthcare professional.
Weight Fluctuations
Gaining weight, losing weight, and gaining it back again can lead to wrinkles. When fat accumulates in the body, the skin stretches to accommodate it. When there's less fat, the skin will deflate. When you're young, this happens quickly and easily. However, as the skin ages, it loses elasticity and can't bounce back as it once could. This results in loose skin with wrinkles.
Combined with unprotected exposure to the sun, smoking cigarettes, and decreasing testosterone, men are highly susceptible to seeing wrinkles in early midlife. The best thing you can do for yourself is to lead a healthy lifestyle by eating nutritious foods and exercising.
If you're able to quit smoking, get treatment for any hormone issues, and protect yourself from the sun's harmful rays...that's even better.
BOTOX® for Men in Manhattan and Long Island
James Christian Sardelli, RPA-C has been helping men and women reduce fine lines and wrinkles for 10+ years. As an experienced injector, James understands how wrinkles are formed, and is gifted in using BOTOX and fillers in a natural way to bring back a more youthful appearance.
James Christian Cosmetics has many locations across Nassau and Suffolk Counties including Manhattan, Commack, Islip, West Sayville, Westhampton Beach, Rockville Centre, Farmingdale, and Babylon Village, NY.